Overview of Grizzly Feeder
Date:01/13/2013 11:19:17
Electromagnetic vibrating feeder, also known as grizzly feeder, is frequently used to feed materials at short distance in production lines. Electromagnetic vibrating feeder is the most widely used shaker feeder. It feeds materials for belt conveyor, bucket elevator, screening equipment, crushing machine and grinding machine.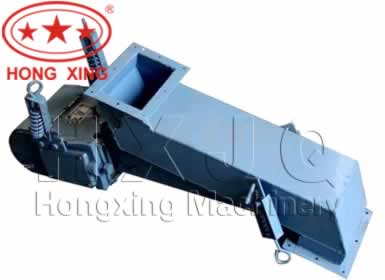 Special Structure of Vibration Feeder
Vibration Feeder is composed of main body, screen, vibrating electromagnetic, motor and shock-absorbing device. Electromagnetic vibrating feeder is able to provide different types of tanks according to the production requirements. The slant angle of pendulum feeder should be set at 10℃. Its enclosed structure makes it no harm for environment.
Application Area of Ore Feeding Machine
Mineral feeding machine is broadly applied in fields like metallurgy, coal, electricity, chemical, machinery, building material, light industry and agriculture. The material needing conveying should be at least 1mm in granularity and less than 10% in water content. It is capable of evenly conveying materials from storage bunker or hopper to the next procedure.
Highlights of Grizzly Feeder
1. Small volume
2. Light weight
3. Simple structure
4. Small floor are
5. Low investment cost
6. Easy maintenance
7. Low energy consumption
8. Long service life
Installation and Maintenance Skills of Mineral Feeding Machine
1. If the ore feeding machine is used for ingredients and dosing, it should be installed horizontally in order to ensure the uniform and stability of feeding and prevent the gravity flow of the material. The pendulum feeder can be installed slantly to 10℃for continuous feeding of the general material.
2. The shaker feeder installation should be horizontal and leave a travel clearance of 20mm. Flexible connections should be used for the suspension.
3. Before the empty test, all bolts should be solidified especially the anchor bolts of the vibrating motor which should be tightened again for continuous operation of 3-5 hours.
4. The two vibrating motors must rotate during the test.
5. During the feeding operation, you should always check the stability of the amplitude, current and noise. Stop the machine in time if abnormal cases occur.
6. Fill the bearings of the motor with oil every two month. In the hot season, lubricant should be filled once a month.
If you have a question about our products, we'd like to hear from you.Rest assured we won't share your name, address or phone number with anyone. We're passionate about our company and want to help any way we can. Thanks for taking the time to get in touch with us. Email: sales@hxjq.com Tel:+86-371-67833161