Mobile Crusher Realizes Balance between Economy and Environment
Date:09/21/2014 10:15:34
Mobile crusher is mainly used for material processing and moving operations in metallurgy industry, chemical industry, building materials industry, hydropower industry and other sectors. It is especially suitable for the liquidity stone operations in highway, railway, hydropower projects and other industry. The main equipment of mobile crusher consists of vibrating feeder, jaw crusher, circular vibrating screen, impact crusher, cone crusher, sand making machine, motor, control box and other equipment to form the multiple combinations. The mobile crushing plant has flexible set with the integrated vehicle-loaded system, so as to realize the quick and convenient crushing operation, which saves a lot of construction time, raw materials and transportation costs.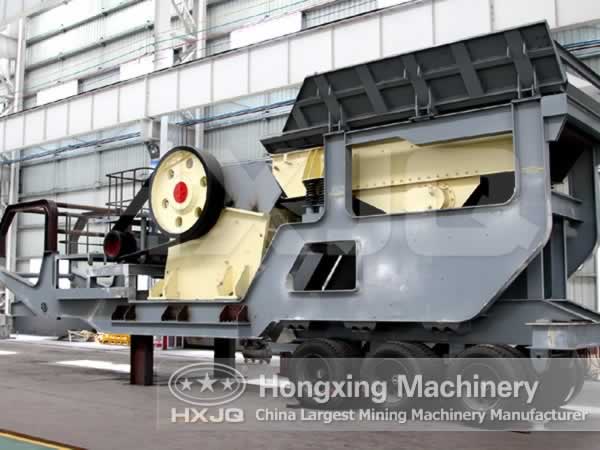 Mobile crushing plant plays an irreplaceable role in construction waste disposal, which can crush and screen the steel and concrete in the construction waste. Most of the construction garbage can be used as the regenerate resources after the sorting and eliminating processes. Such as waste steel, scrap iron, scrap wire and all kinds of scrap parts as well as other metal can be manufactured into various specifications of steel through sorting and centralized re-melting. Waste wood and bamboo can be used to make artificial wood. Brick, stone, concrete and other materials after crushing can replace sand, which can be used in masonry mortar, plasterer mortar, the concrete cushion and so on. It can also be used for making brick, paving brick and other building materials. So as to achieve the transformation from the traditional raw building materials, building material and building waste material to building materials, construction waste, building materials again, and finally to the renewable raw materials circulation patterns. The mobile crushing station has obvious garbage disposal effect, which is fully approved by various customers. Hongxing Machinery has complete sets of construction crushing equipment which has reached the international advanced level. We have established construction waste processing demonstration production line in Shanghai, Jiangsu and other provinces, which has a good operation effect, which has realized non pollution and renewable resource recycling of construction waste.
With the appearance of mobile crushing plant, the coarse crushing, fine crushing, screening and other operation fields have been expanded. In the low carbon economy environment, the construction waste crushing and screening technology adopts by mobile crusher is a new technology which can turn construction waste into treasure. It has gradually occupied the market instead of the traditional burial construction waste transport. Although mobile crusher has made great achievements in mobile crushing fields, the building garbage harmless treatment is still a lasting and arduous task, which needs positive advice and suggestions from all industries. It ultimately achieves the purpose of thoroughly cleaning the construction waste, so as to realize the harmonious development of economy and environment.
What Can I Do For You?
You can also send a message to us by this email sales@hxjq.com, we will reply to you within 24 hours. Now tell us your needs, there will be more favorable prices!
What Can I Do For You?
You can also send a message to us by this email sales@hxjq.com, we will reply to you within 24 hours. Now tell us your needs, there will be more favorable prices!